Make Your Vision Right Before Your Eyes with AR Assisted Manufacturing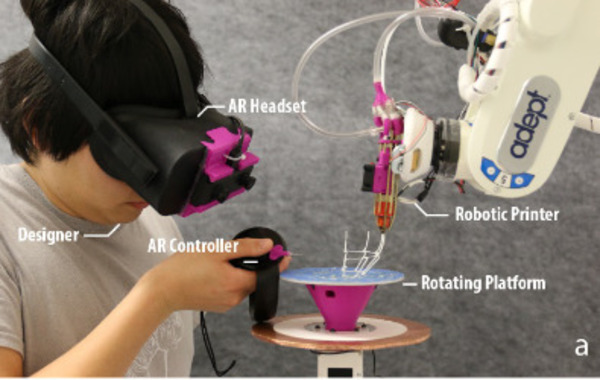 A New 3D printing concept usings AR and robots is making news. Augmented reality and 3D printing are not exactly new concepts but Cornell University is experimenting with something that is both new and unique. Other companies such as Google and HTC have dabbled in merging the two formats together, but they have nothing on Cornell's new real time input and collaborative printing between humans and machines.
A controller is used by designers with an AR headset while the machine prints out the design. Called the Robotic Modelling Assistant or RoMA, this is state of the art system allows the 3D printer to be used alongside with humans. Impressively is that while the robot is printing one part of the object the user can be working on a different area, making adjustments to the design and tweaking elements on the fly. It can create items purely from scratch but is also advanced enough to print on already existing printed items. Items can be cut off from the design and then a new feature added back onto the existing framework.
The entire design process is done using an AR CAD editor that allows for quick adjustments to be made. "RoMA lets users integrate real-world constraints into a design rapidly, allowing them create well-proportioned tangible artifacts or to extend existing objects." As stated in the research paper that presented this idea.
The truly remarkable thing about this new process is how much time if can save from going from the concept to model phase. Being able to almost instantly see what concepts would work or not, being able to use your own hands for scale as well and to make sure that the shape will conform with designs and practicality of its end use is a brilliant innovation. All this while being able to test new ideas on already established models can be a game changer.
The impact that this will have for larger scale production with bigger devices is nothing that can be ignored. How with a more fluid form of CAD impact the productivity of manufacturers and their ability to see the results of that work so quickly?
While still in its early proof-of-concept form it's not hard to see how these findings that were shown at the Conference on Human Factors in Computing Systems 2018 will be shocking and impressing anyone that sees it.
Do you think we can see this being implemented in companies soon or do you think it's just a cleaver gimmick?
About IMS Supply: IMS Supply is a leading distributor of maintenance, repair and operations (MRO) products and services with facilities in East and West Michigan and Kentucky. Through our MRO Asset Recovery Program we stock hard to find parts and supplies from thousands of different manufacturers at prices up to 70% less than MSRP. Contact us today to find out how we can help your business.