Robots are Shown to be Superior to Humans Because They Can Put Together IKEA Chair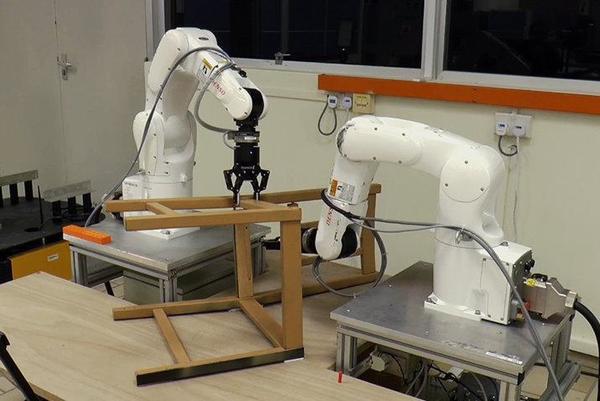 Research scientists at Nanyang Technological University of Singapore had made a robot that can build an IKEA chair from scratch in under 20 minutes. I don't know about you but I have built some of those chairs… it took me much longer then 20 minutes.
Built with a 3d camera, sensors and 2 robotic arms with grippers, it can pick up object and interact and manipulate things similar to the way a human can.
The researchers dump the chair parts out randomly around the robot trying to imitate the way I would open up a delivery.
The robot took 3 seconds to locate and map the positions. It spent 11 minutes to plan its movements and then assemble its chair in under 9 minutes .
"The job of assembly, which may come naturally to humans, has to be broken down into different steps, such as identifying where the different chair parts are, the force required to grip the parts, and making sure the robotic arms move without colliding into each other," said Assistant professor Pham Quang Cuong.
Quang Cuong leads the team of scientists that are working on this robot. They are trying to get more Artificial intelligence to make the robot more autonomous.
"So it can learn the different steps of assembling a chair through human demonstration or by reading the instruction manual, or even from an image of the assembled product," he said.
By locating all of the parts, it could locate and grab the proper parts and in the necessary order to assemble the chair. While the robot put the chair together without any interruptions, the robot was programed on the procedures and orders. This was similar to human looking at the instructions.
It took three years to build and program the robot. It was built entirely from off the shelf components to keep costs down. The team said that mounting its sensors on the wrists help to determine the force needed for the project, this was important as controlling its strength was very challenging.
The team is not working on getting the robot to work on mastering glass bonding for the automotive industry and drilling holes in metal for the aircraft manufacturing industry. Pretty soon they will have it writing blog posts better than me as well.
About IMS Supply: IMS Supply is a leading distributor of maintenance, repair and operations (MRO) products and services with facilities in East and West Michigan and Kentucky. Through our MRO Asset Recovery Program we stock hard to find parts and supplies from thousands of different manufacturers at prices up to 70% less than MSRP. Contact us today to find out how we can help your business.