Is the Robot Revolution Closer Then We Think? We Hope So!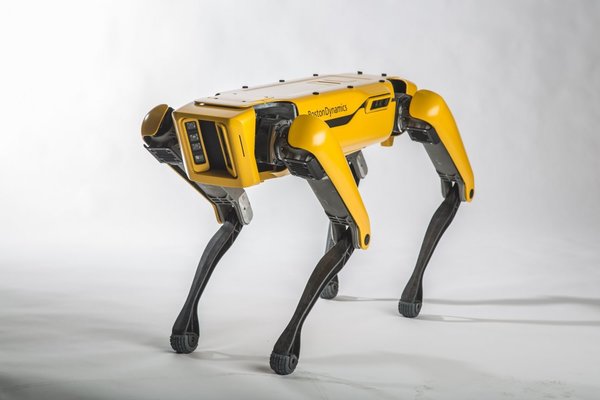 Recently Boston Dynamics, a leading company in robotics that has before wowed us with their videos of their new innovational robotic designs has done it again. Their latest video showcases their robot named SpotMini, what makes this new robot of theirs so unique you ask? It can open doors.
It my not seem that impressive for us being as we do it every day and we even have service dogs that do the same but the Wall Street Journal just had an article saying that robots participating in a government-sponsored contest were lacking the hand-eye coordination (or lens-limb coordination we should say) to complete the same task that SpotMini just accomplished almost effortlessly
SpotMini is a Small robot that weighs in at 30 Kg, around 66 pounds with its articulating arm. The video posted on youtube named "Hey Buddy, Can You Give Me a Hand?" is only 45 seconds longs but shows the awesome dexterity of what these robots can really do.
Having had a history of innovating ideas when it comes to robotics, creating many different and specialized robots that mimic everyday actions and motions, designed to deal with a wide range of terrains and functions. Boston Dynamics originally started as a spin-off of the famous Massachusetts Institute of Technology, has landed contracts with DARPA (the Defense Advanced Research Agency) from the U.S. Department of Defense that has helped to create other amazing robots. Such revolutionary machines like the Wildcat, the world's fastest free running quadruped robot in the world, and the LS3, a modern-day robot pack mule that automatically follows its leader and can carry up to 500 kg payloads. Both machines help show that the future really is now.
Changing Directions
The company has been going through some changes originally being sold back in 2013 Google X, then being put up or sale again in 2016 as Google X claiming the projects being worked on didn't match the direction the company wanted to go.
"There's excitement from the tech press, but we're also starting to see some negative threads about [Boston Dynamics' work on robots] being terrifying, ready to take humans' jobs," Courtney Hohne, a Google X spokeswoman, said at the time.
Japanese Tech company SoftBank has an agreement to purchased but the sale is on hold due to some national security regulations.
"Today, there are many issues we still cannot solve by ourselves with human capabilities. Smart robotics are going to be a key driver of the next stage of the Information Revolution," Said Masayoshi Son, Chairman & CEO of SoftBank Group Corp. "I am thrilled to welcome them to the SoftBank family and look forward to supporting them as they continue to advance the field of robotics and explore applications that can help make life easier, safer and more fulfilling."
While the sale itself maybe in limbo our imaginations certainty are not. It might be early to start praising our robot overlords, we can still watch in awe and excitement at the work being done over at Boston Dynamic, and hope they keep shocking us with their new creations.
About IMS Supply: IMS Supply is a leading distributor of maintenance, repair and operations (MRO) products and services with facilities in East and West Michigan and Kentucky. Through our MRO Asset Recovery Program we stock hard to find parts and supplies from thousands of different manufacturers at prices up to 70% less than MSRP. Contact us today to find out how we can help your business.