The University of Michigan's Latest Iconic Cube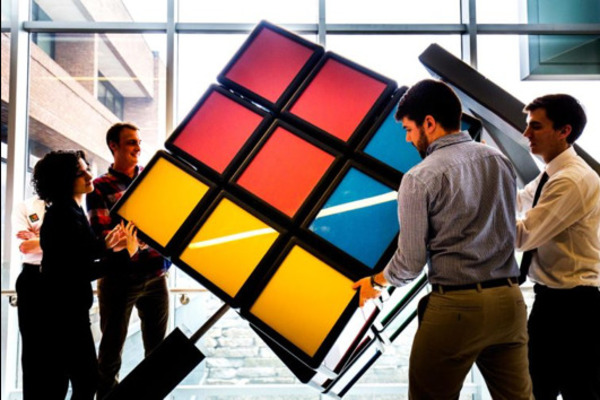 Many are familiar with and have given a little spin to "The Cube" located on campus near the Michigan Union. Thanks to teams of engineering students, U of M has a second giant cube. This one is located on North Campus and is also a famous puzzle! "Now North Campus has an iconic cube of our own," said Ryan Kuhn, one of the engineering student developers.

U of M Engineering students created a 1,500 pound, primarily aluminum, Rubik's Cube. According to Michigan Engineer News Center, the giant Rubik's Cube "is believed to be the world's largest hand-solvable, stationary version of the famous puzzle." Like it's older brother, this cube is meant to be touched. By design, the large scale puzzle requires teamwork to manipulate.
The first student engineering team began project in 2014. They stayed involved in the project after graduation for the second team of student engineers.
If you'd like to check out this amazing feat of U of M Engineering, head over to the G.G. Brown Building in North Campus. Bring a friend, remember this requires teamwork!

High praise from IMS Supply to U of M Engineering Teams on the development of their iconic cube. Well done!
About IMS Supply: IMS Supply is a leading distributor of maintenance, repair and operations (MRO) products and services with facilities in East and West Michigan and Kentucky. Through our MRO Asset Recovery Program we stock hard to find parts and supplies from thousands of different manufacturers at prices up to 70% less than MSRP. Contact us today to find out how we can help your business.