Solve Automation Problems with Swivellink Mounting Solutions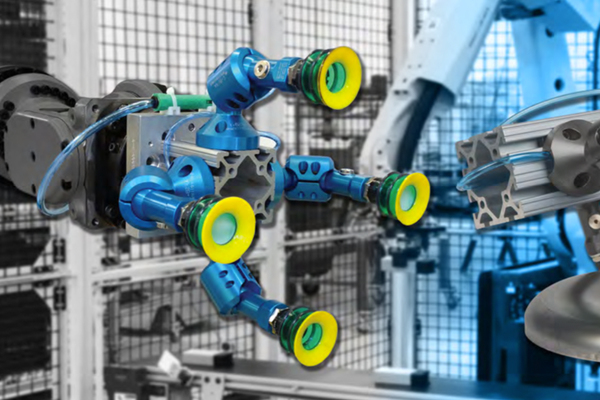 The Swivellink product was originally designed to provide an ergonomic and robust way to put operator start buttons onto custom built industrial machinery. The goal was to protect the expensive button and route the quick disconnect cable internally, because a simple wire break or damaged button can cause hours of costly production down time.
Swivellink never developed the product to sell, but to solve a problem on their own production lines. The product was so unique that it took off and sold without much effort.
Swivellink's Creative Approach
Once the product gained traction in the market Swivellink found new and creative ways to solve problems. They added solutions for cameras, sensors, smaller and lighter cameras (XS series), monitor mounting, table base for quick mounting to workbenches and tables, and robotic end of arm tooling. Today, Swivellink has converted their entire mounting line of products to Metric in addition to Imperial.
As Swivellink sets out to provide creative automation products, other automation solutions have been developed. Swivellink Conveyor has been introduced as a modular conveyor option and they are able to produce a "conveyor-in-a-box" at a fraction of the cost, ship worldwide, and let end users build the conveyor.
Modular Designs
Additionally, the Stronguard guarding system solves the problems that machine guarding / fencing is not always rigid enough for industrial environment and takes too long to manufacture. Swivellink's modular guarding system is sold in sections and easily links together, allowing the end user to buy an off-the-shelf solution that appears like it was built custom. It is strong enough to be considered the major player in industrial guarding and fencing products.
Now distributed by IMS Supply, the Swivellink product line has been used for hundreds of different applications in all types of industries. Their goal is to intelligently design a flexible product line that will solve automation problems. The possibilities are endless for automation product solutions.
About IMS Supply: IMS Supply is a leading distributor of maintenance, repair and operations (MRO) products and services with facilities in East and West Michigan and Kentucky. Through our MRO Asset Recovery Program we stock hard to find parts and supplies from thousands of different manufacturers at prices up to 70% less than MSRP. Contact us today to find out how we can help your business.