Automotive OEMs Show 5 Trends to Help Flexibility for Production Lines.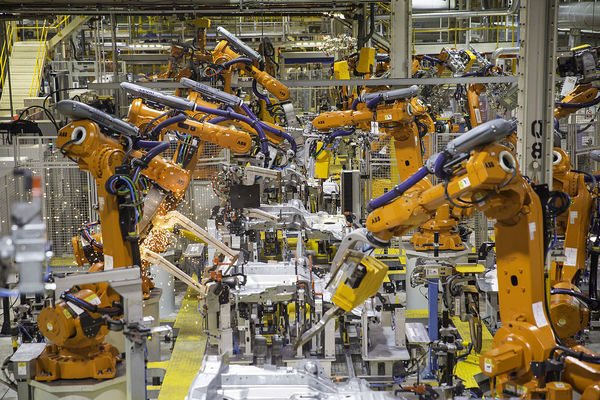 With changes in the buying trends going from sedans to SUVs, automotive companies are changing their production lines to be able to produce different vehicles on the same assembly line. Ford has decided to move its Focus production to China facilities, 60% of Fords new vehicle sales were trucks in 2018, which is prompting the switch. Similarly, Fiat Chrysler Automobiles, has shifted its production by discontinuing the Chrysler 200 and the Dodge Dart to focus on the Ram and Jeep SUVs. These changes were all made to optimize production lines to product SUVs and pick-up trucks which have seen a drastic increase in purchases over the traditional sedan. Why the change in buying trends? Many SUVs are built on the same lightweight car frames allowing to get similar mileage to sedans. With the average pump price around $2.50 per gallon this might be prompting the change in vehicle purchases to an SUVs over the smaller sedans.
The change in the market have led to the automobile manufacturers need to start using and relying on 'Smart' factories. The new factories will be taking a different approach to the current handling and manufacturing methods. Some companies have already started to change their production lines to be able to produce multiple types of vehicles on the same line, switching from smaller sedans to the larger SUVs or vice versa. The flexibility to change can help mitigate changes the buying trends of the current and future market to save costs and labor from producing vehicles that are not selling. These flexible smart factories are using five manufacturing trends to meet the new increased demand for SUVs.
Manufacturing Trends
1. Simulate Total Process
Nearly all design projects or new manufacturing projects are supported by a simulation. If they aren't they should be or soon will be. Simulations with the proper data can help project the expected material handling, projected total process cost, budgeting of resources, and time. Allowing automakers to see modifications and adaptation for final implementation they can edit and gauge all aspects of the planning stage and achieve a better ROI with its resource management
2. Flexible/Agile Production Lines
Current production lines use modular or linear production, relying on rigid single-purpose machines. With like all industries forecasts are not stable, so the need to be flexible to change to meet new changes demanded by the market is clutch. The flexible production lines could minimize labor while maximizing automation. They could allow for twenty-four hours, and seven days a week production. These changes to the production lines could help meet market demands by changing the production floor activities.
3. Big Data for Smarter Services
OEMs with a decentralized connecting system would allow for feedback for a plant would help generate higher efficiency for design and performance, optimized product development, and give a transparent logistic process with a seamless digital process chain.
4. Resource Efficiency
The automotive industry is always looking to increase efficiency and reduce costs like all industries. Using optimized logical methods, energy efference machinery, reducing redundant or oversized equipment that takes unnecessary power. All these yield more accurate plans for reliable energy consumption plans, a more carbon neutral production line.
5. 360° Connectivity
By maximizing its connectivity OEMs can add solutions that are easy to integrate and efficient to maintain. This can be done through services through mobile devices or communication networks. Having higher flexibility within machine parameters, as well as more reliable or available machines while gaining a transparent production.
These five trends are being used in the Automation field but the changes and trends can be applied to many different industries, because all industries must change to match market trends. The ability to stay flexible in the manufacturing process can lead to better profits and ROIs, so stay current and stay flexible.
About IMS Supply: IMS Supply is a leading distributor of maintenance, repair and operations (MRO) products and services with facilities in East and West Michigan and Kentucky. Through our MRO Asset Recovery Program we stock hard to find parts and supplies from thousands of different manufacturers at prices up to 70% less than MSRP. Contact us today to find out how we can help your business.